2 min read
Problem
Visitors lack knowledge about architectural history of the campus and their need to tour around the campus effectively is unsatisfied.
Solution
We designed a self-touring app that provide informative content, tour customization, and high accessiblility to increase familiarity and engagement with UC San Diego's campus' architectural landmarks.
Impact
Launched July 2020 on Google Play Store. Officially endorsed by UC San Diego and San Diego Architecture Foundation (SDAF), Xplore will be accepted as the official app for visiting UC San Diego.
See Full project case
Our Process
Our design process follows the Double Diamond Model of Design Thinking, aiming to narrow down to the right problem before finding the right solution.
My Role
• User research and competitive audits
• Sketch/Figma for low/hi-fidelity mockups
• Hosting cross-functional design critiques
• Andriod/Accessibility User testing
• Engineering handoff

Collaborators
• 1 other Product Designer
• 1 Product Manager
• 7 Engineering guru

Explore Problem & Empathize
I researched using a combination of 5 methods to gather qualitative context and quantitative data on the problem domain and build empathy.

 1. Communicate need from stakeholders
 2. Survey data to discern pattern
 3. Field Study - Taking school tours
 4. UCSD current Triton Tour Guide 1:1 s
5. Comparative Analysis

---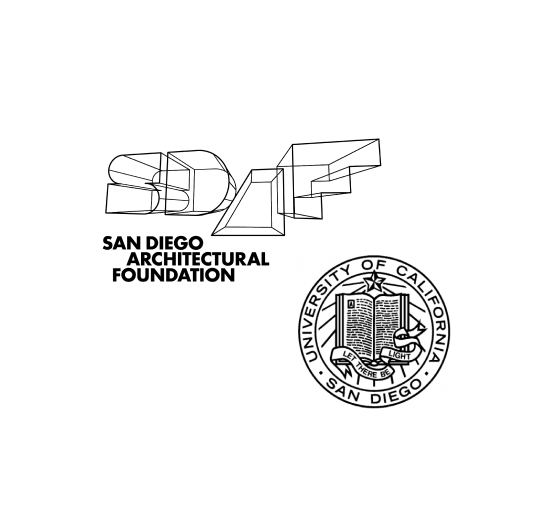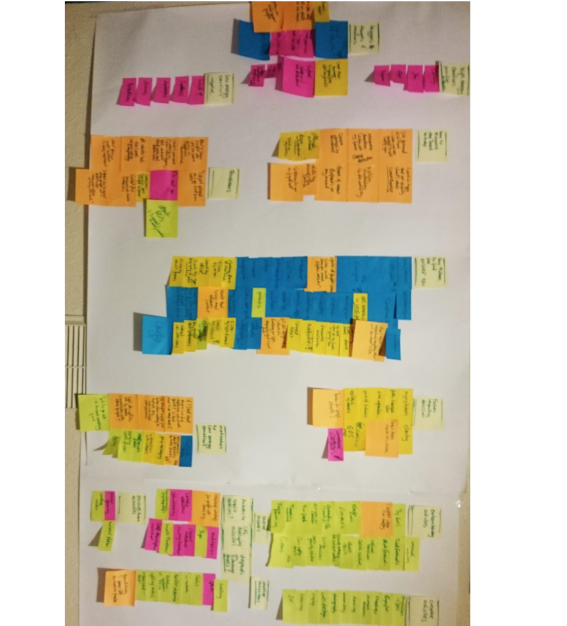 02
Pattern discerned from Survey Data & Affinity Diagram
4.35% would choose current school tours as an option.

60.87% "strongly interested" to discover more about UCSD

58.7% participants chose "2-4 hours ( ~half a day )" as preferred touring time.

However, the current official school tour (Triton Tour), which only provide tours for around 1 hour with fixed route. Visitors tend not be able to fully satisfied and had to wander around to kill time even if they attended.

For qualitative survey data, we created an affinity-diagram to turn raw data into meaningful groups that are easy to identify patterns.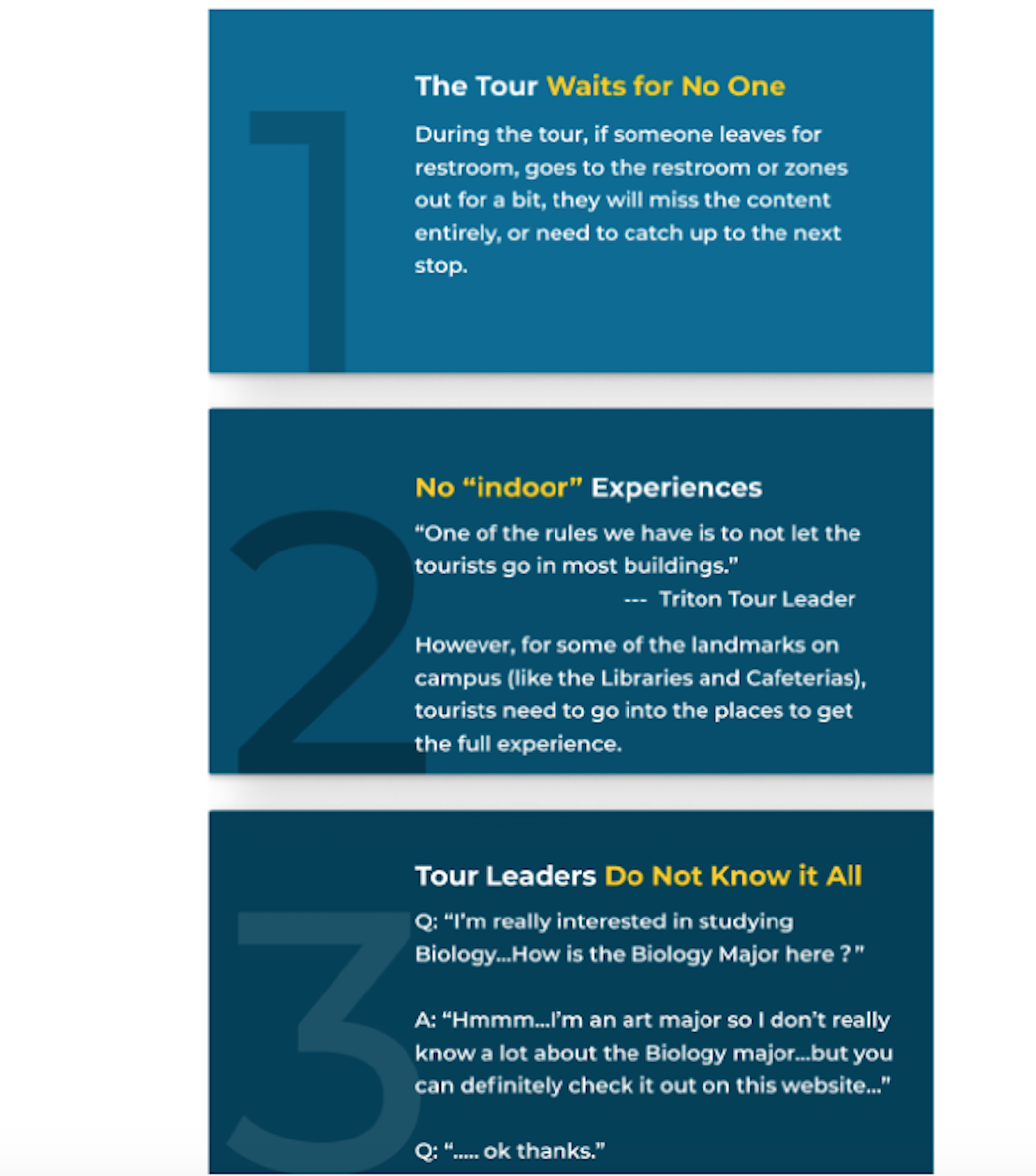 03
Field Study:Pretend to be "Tourists" & observe the real ones
We personally signed up for the official school tours(Triton Tour), walked along side with prospective students,their parents, and local visitors to observe their real reactions in natural settings and interactions with human tour guide.

The observations boiled down to 4 key insights (listed aside), which better informed our later solution.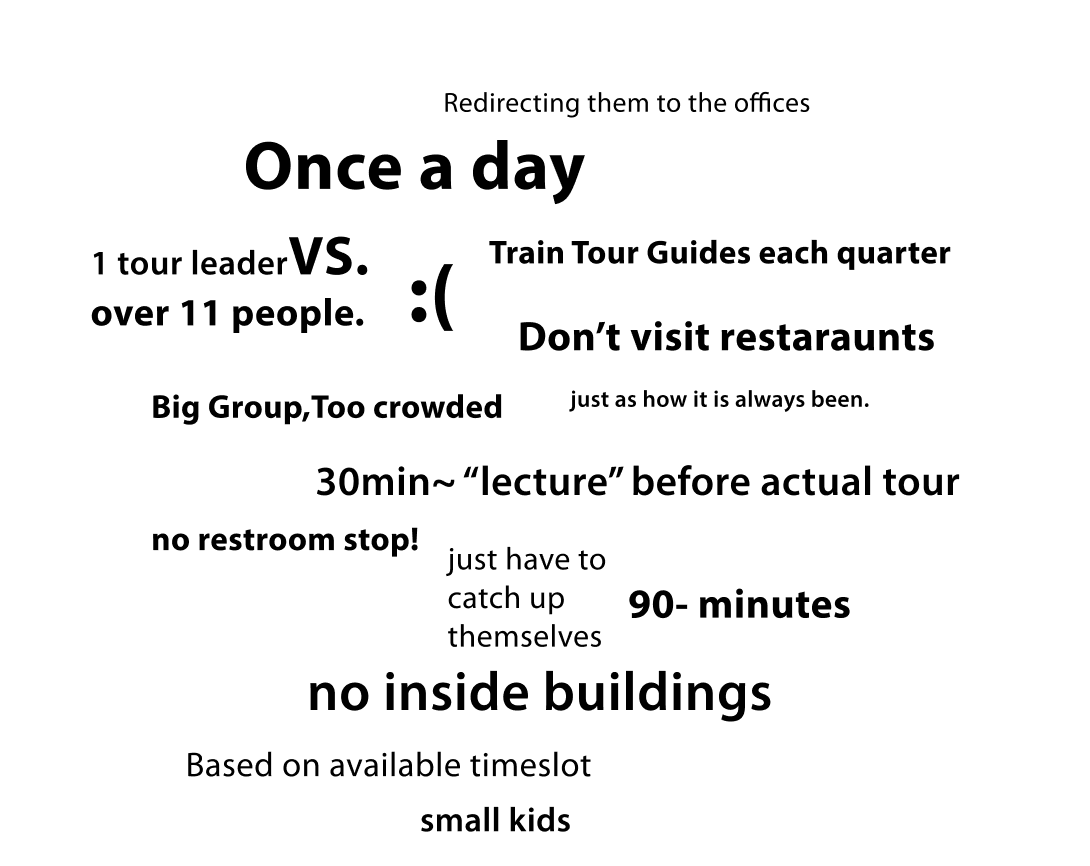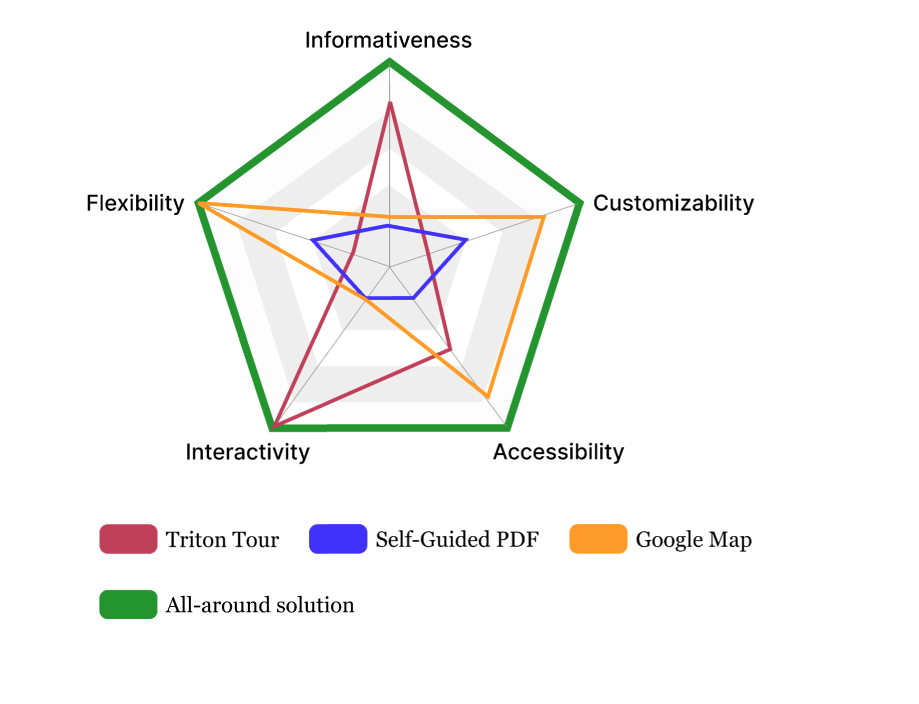 05
Current Solutions are NOT enough:Comparative Analysis
Our team compared across other 4 competitors. (Figure 1) There is currently NO All-around solution in this problem domain. We found out noticable missing opportunities that haven't been addressed in aspect of informativeness, Customizability, and Accessibility.

Specifically, Triton Tour (Figure 2) is not customizable enough since they have lots of innate constraints and human knowledge bias as listed in CON;

Self-guided pdf (Figure 3) is not accessible enough since it fails to be color-blind freindly;

And all solutions is not informative enough to educate visitors about the architectural history in UCSD.
---
Narrow Down & Define:
3 Design Metrics
"Boiling things down to 'the most fundamental truths'and then reasoning up from there."
— First Principle
Informativeness
Xplroe provided multimedia information to enrich content. Besides audio guides by the recruited student tour guides to recreate the personal experience of physical tours, we also adds video and detailed architectural history to better inform users.
Customizability
We acknowledged that visitors have varied time constraints, interests, and goals to tour UCSD. Thus we pioritized the feature to customize your own tour.
Accessibility
Xplore practiced inclusive design since our users span all ages, physical and cognitive abilities. Thus, we aim to make designs compliant with WCAG 2.1 guidelines and tested under undesired conditions where situational disability happens.
---
---
Iterative Design Process
User Flow & Sketches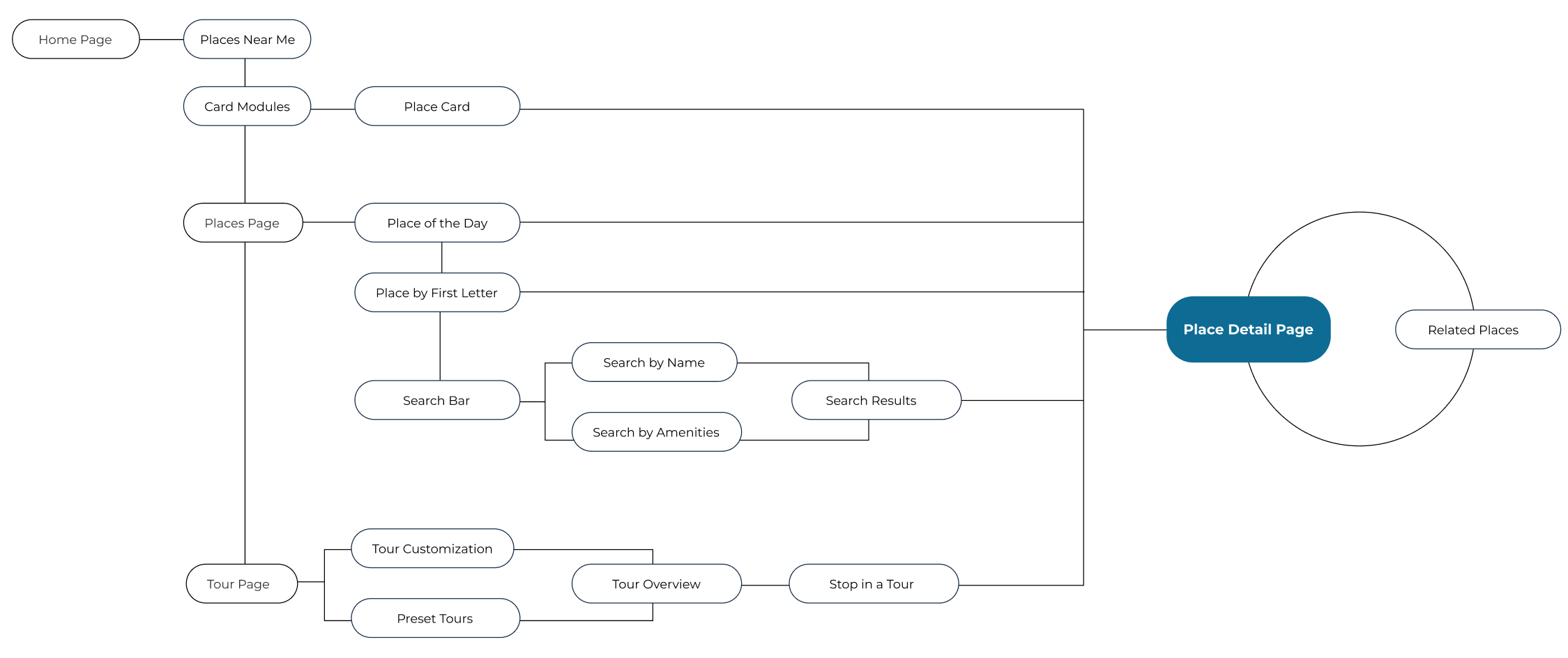 Iteration towards Informativeness:
Information Architecture
To achieve the design metrix of informativeness effectively, we want users, whose attention & cognitive capcity is limited, to better absorb the information presented on Place Detail Page, instead of suffer cognition overload by packed text. ( Situational Cognitive Disability )
We conducted Preference Test to make sure a good Information Architecture,
present 3 versions of different layouts of the Place Detailed Page and ask for preferences.
Why Preference Test?
* Due to quarantine, can only conduct remote testing ( can't do physical card sorting )
* A quick-and-dirty way to gather user's intuitions towards the app's information architecture

Iteration towards Accessibility:
App for EVERYONE
To achieve the metrix of Accessibility & Inclusivity,
we ensured 100% of its color contrast issues to pass WCAG Level AA and AAA by 1st MVP Release.
Also I checked color blind friendliness, such as tritanopia (red/green), deuteranomaly (green weak), tritanopia (blue/yellow) etc. to give equal access to information to EVERYONE.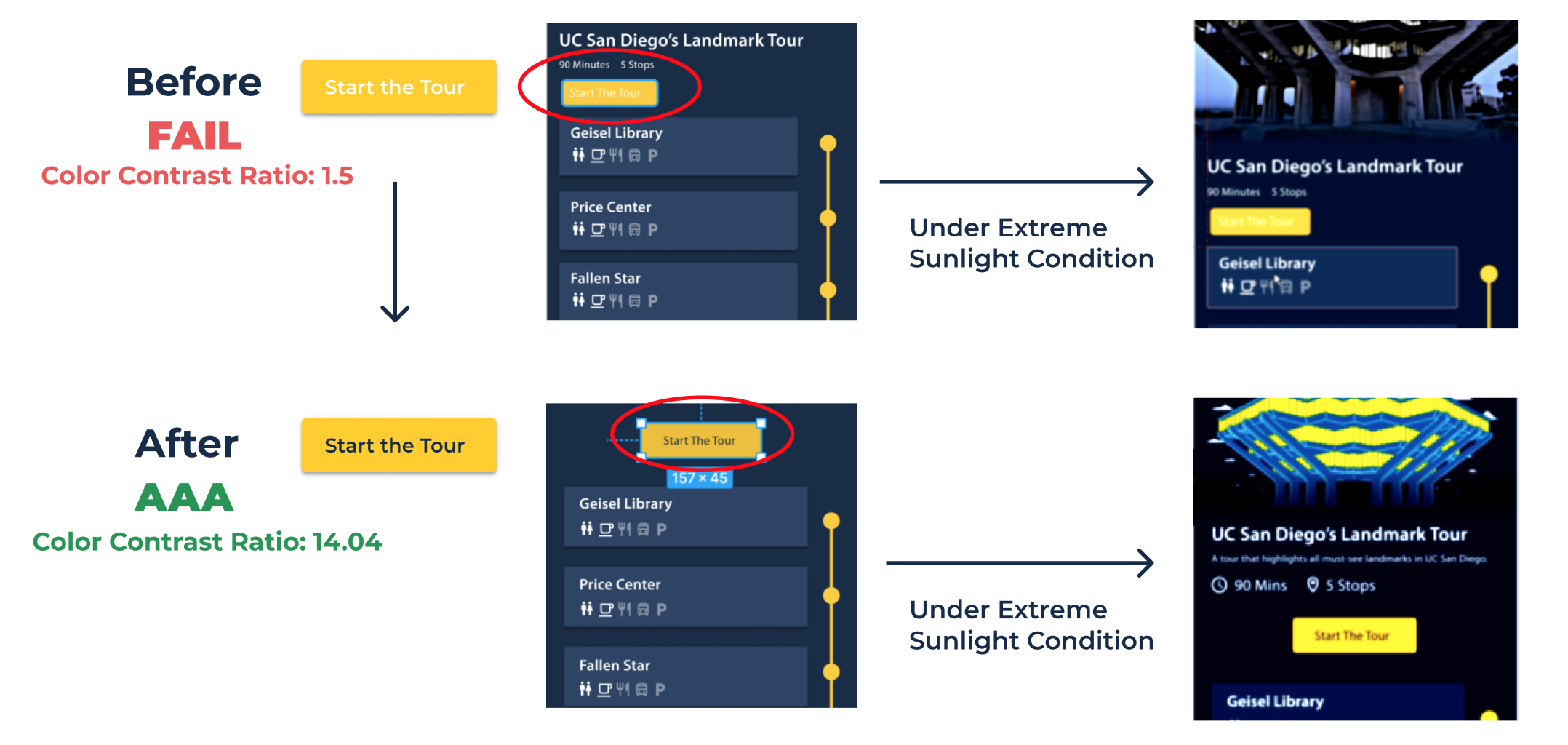 Inclusive design = Magnifier of usability problem
I consider not only permanent disability, but also temporary disability, and situational disability.

As a tour app, there are user scenarios where tourists use the app outdoors under the bright California sunlight (situational blindness), and try to interact with the mobile screen on the move / on a bumpy shuttle where users' finger motion is less accurate which leads to mis-operation ( situational touch impairment ). Thus, I used automated tools like Funkify Disability Simulator to test the readability under simulated strong sunlight, and trembling focus point to test if the CTA buttons are big enough.
Iteration towards Customizability:
How to encourage usage of "Tour Customization" feature?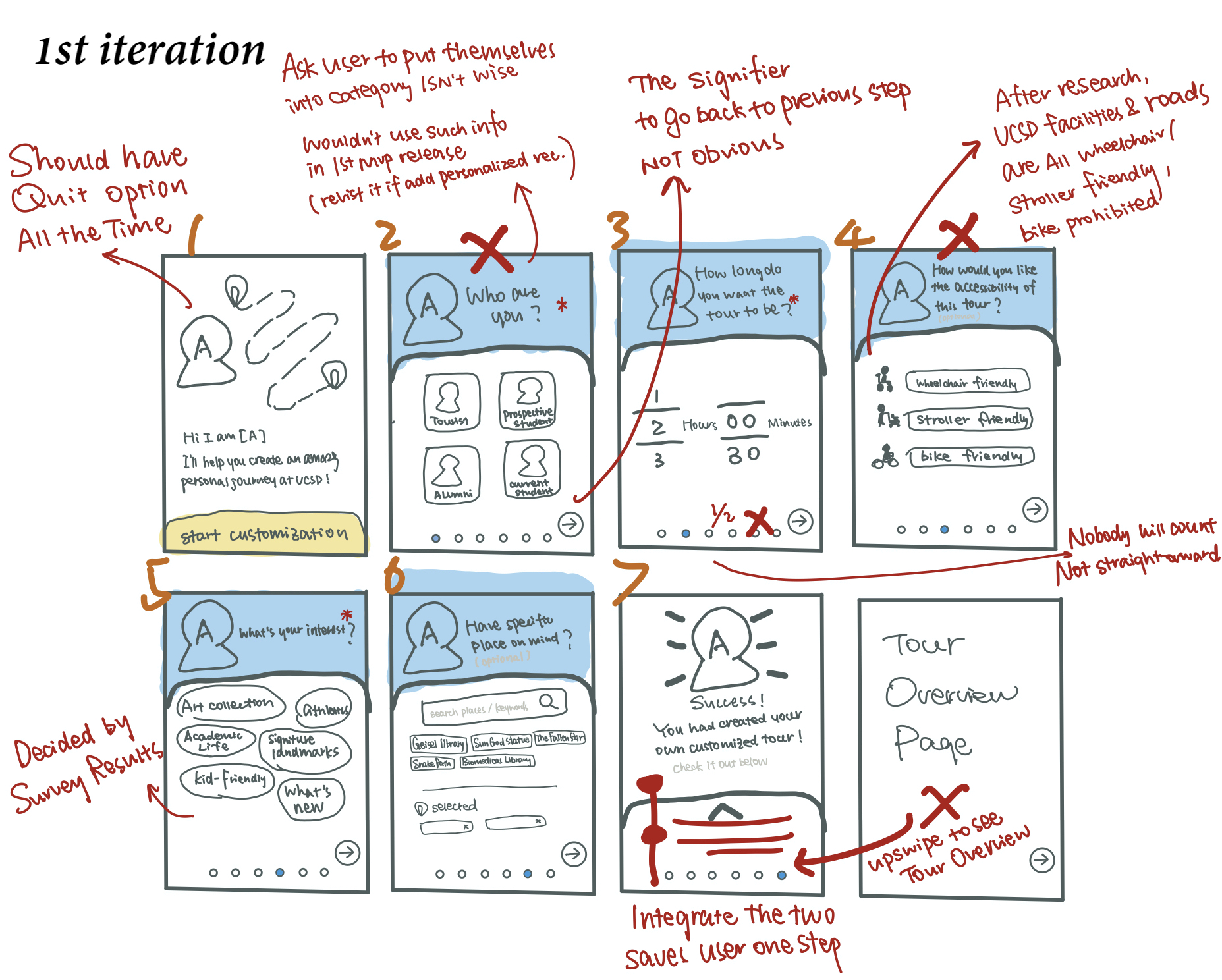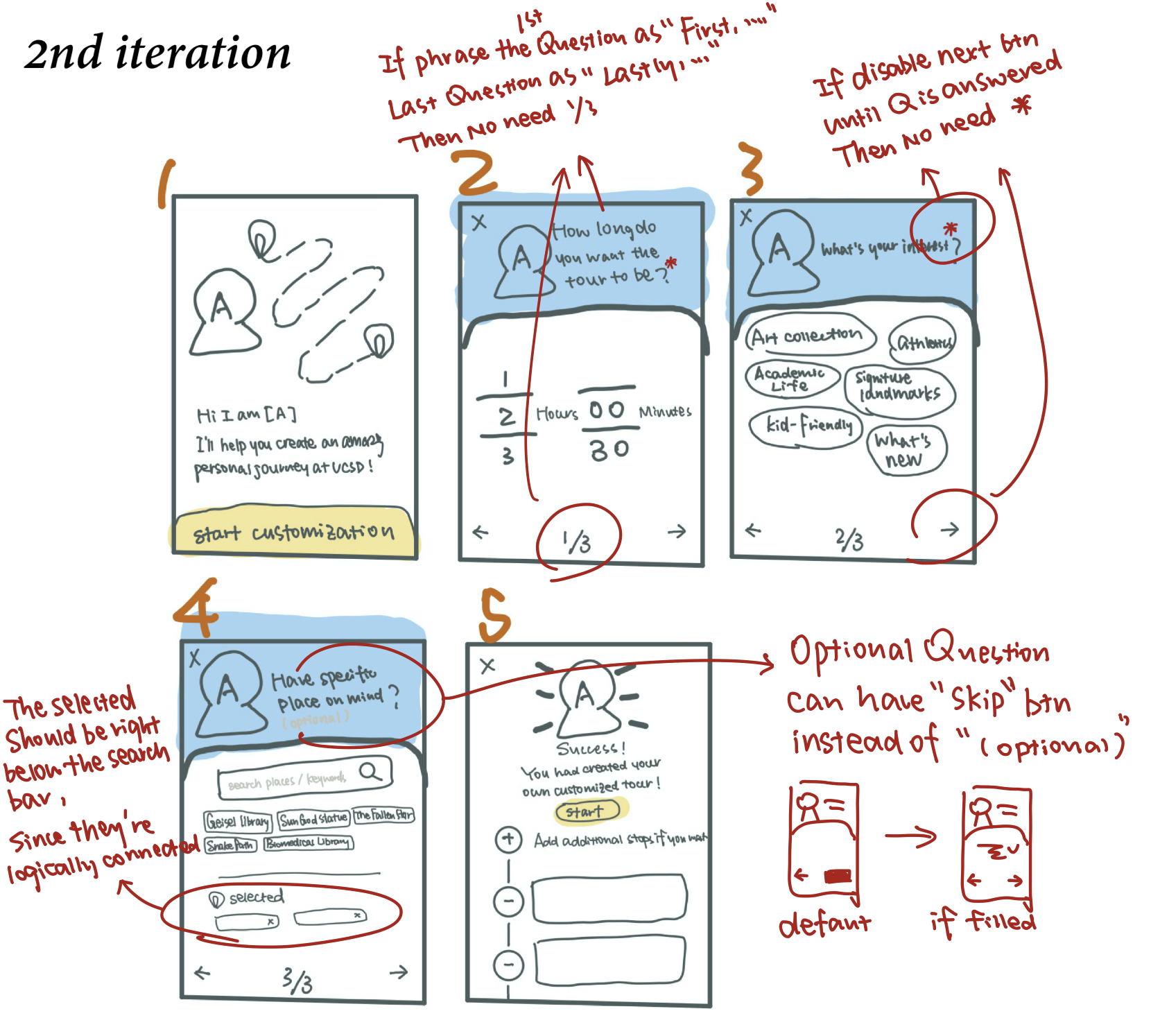 High-Fi Screens &
User Flow
---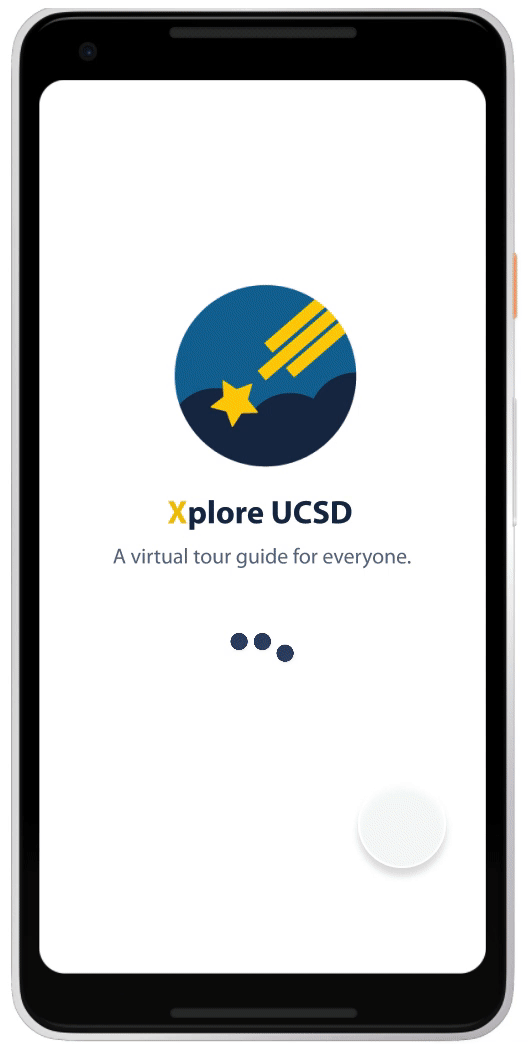 01
Onboarding:
providing greetings, key info, and boost confident engagement within the first interaction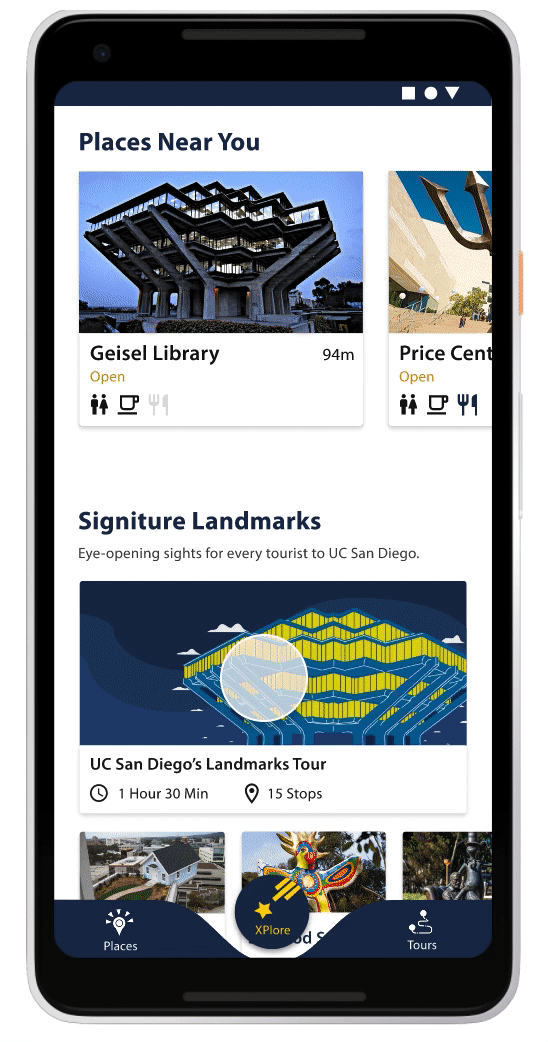 02
During pre-set tour:
immersive audio first experience on accessible dark mode UI
We considered that the during tour feature would be always used on the move outside under strong sunlight, thus dark mode is more accessible and increases readability.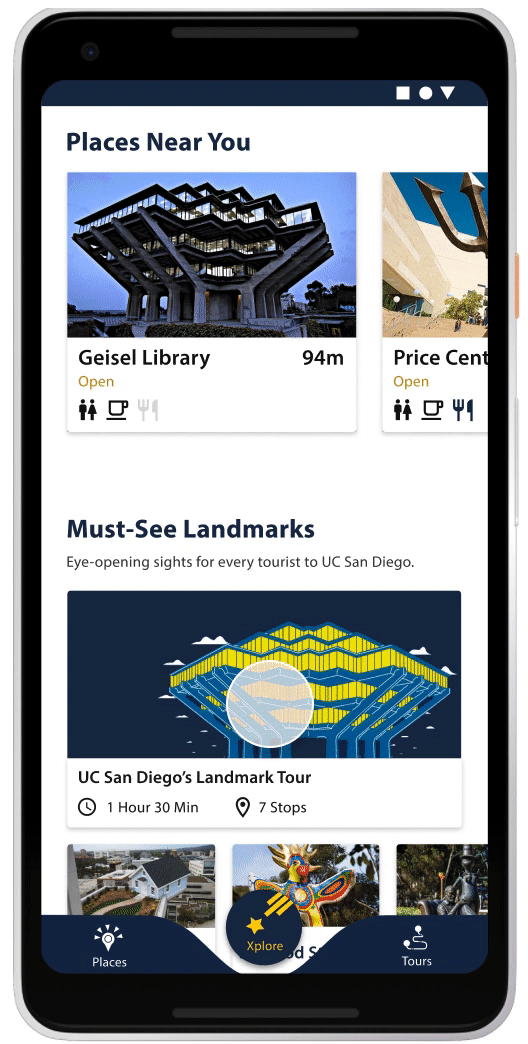 03
Informative detail page & search function with amenities shortcut
Want to learn more about a place but don't feel like be on a tour? We recruited official Triton Tour student guide to record audio introduction for each site to re-create the intimate experience aside from multimedia content.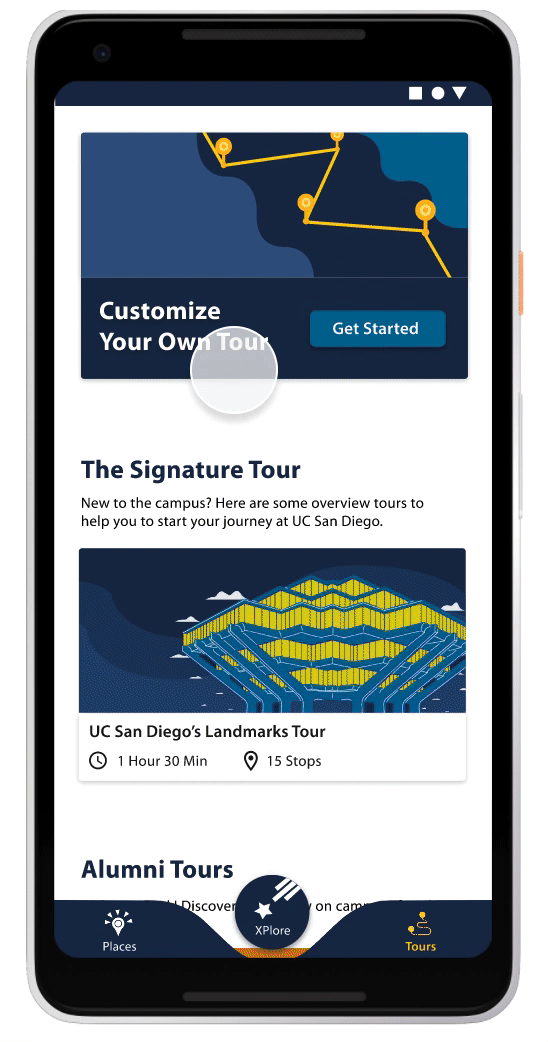 04
Tour Customize:
Tailor towards personalized needs and constraints
---
Business Model & Future: "LEGO" style tour app
Short-term: 1st release by the end of June 2020 on Google Play store. Finished

Mid-term: iOS version release on App Store

Long-term: Our modularized design and scalable code made it possible to scale to other univerticies & cities as an open source software.